Meeting JOHNNY DEPP (part III) ~ The Conversation
Ask me if I remember a damned thing about that conversation. Okay, I remember the handful of idiotic things I did, but the real conversation is unfortunately fading. You know how many *face palms* I have done since then (I have had several headaches) reflecting back on this moment? Thinking and cringing "Omg, I hope I didn't… I must have. Crap why did I say that? Why was I full of verbal diarreah? What the hell was I thinking? What the hell were THEY thinking?"
You're never prepared to have a conversation with a celebrity especially when you know you have limited time. Your thoughts are all over the place ~You're absorbing your surroundings without staring. You want to get as much into the conversation as you possibly can, (for you know this is your lottery win) without sounding pompous…. or for that matter a weirdo. You're nervous, you want to make conversation with everyone, you want to be polite at all times, you want to throw in a joke here and there, you want them to be comfortable with you and not have them think you're a crazed fan, you want to make an impression, you want to be yourself even though you're dressed in Jack attire….. "Man alive, did I cram all these thoughts in, in 10 minutes?"
As Johnny Depp and his personal team were spilling out of the SUV, Jerry, his long life Bodyguard, was out of the vehicle before everyone else, hence extending my hand to him introducing myself. Jerry is the one who not only keeps Johnny Depp from harms way, but keeps him on schedule and is constantly alert regarding fans and immediate surroundings. One can only admire him for what he does and appreciate not only his dedication but loyalty. I then trotted over to Johnny Depp, and feared what to say, as my mind was going a mile a minute, 'where do I start, where do I start….', my mouth decided to go it alone, (not always a good thing). Within seconds I announced I was a "deer in the headlight" and said that "this was happening…." as I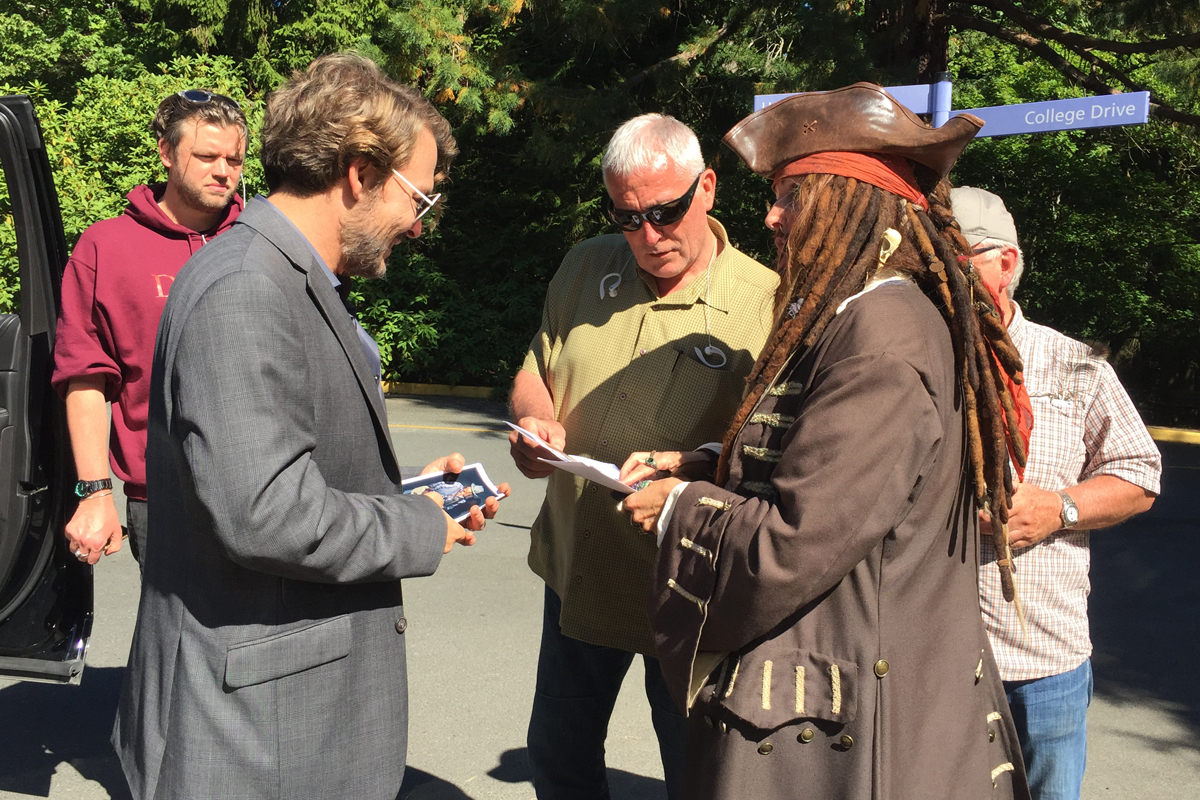 raised my hands to show they were slightly shaking. The good nature and genuine man Mr. Depp is, said "Oh good, I am too", and raised his hands shaking. Chuckling, feeling more at ease, I thanked Johnny Depp for that thoughtful icebreaker as he extended a hug to melt away the rest of those nasty ice pellets that were hanging on. It was then that Jerry joined in and announced he knew about my visit as to BC Children's Hospital a few years ago as the Captain. Not only was I shocked, but this sparked conversation regarding Johnny Depp's recent 'invasion' as the infamous 'Jack Sparrow' to entertain these loving children at BC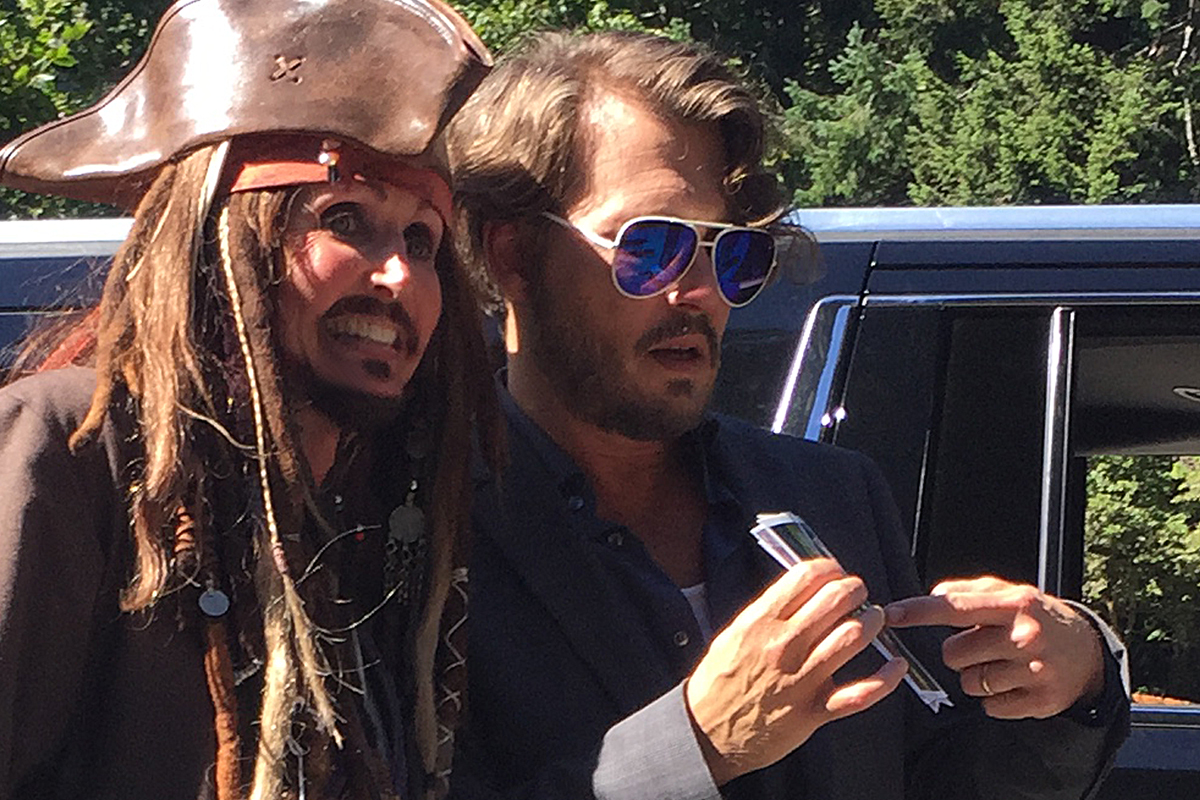 Children's Hospital in Vancouver. The details of this part of the conversation has now become an unfortunate fog.
Before I left the house, I had an unprepared after thought and decided to grab a handful of photos (hard copies) should a moment arise to play 'show and tell'. I didn't want to be fumbling for photos on my cell that posed to be unreliable when yo had the least time and I knew time would be of the essence should all of this come to fruition. In my search, I tried to look for some naked photos, (kidding) but could only find a printed one of me from our daughter's wedding, along with 3 other photos, 2 of me as JD and one in character. These were having to make do. After discussing the Children's Hospital, I produced a photo of me as JD, to which he seemed quite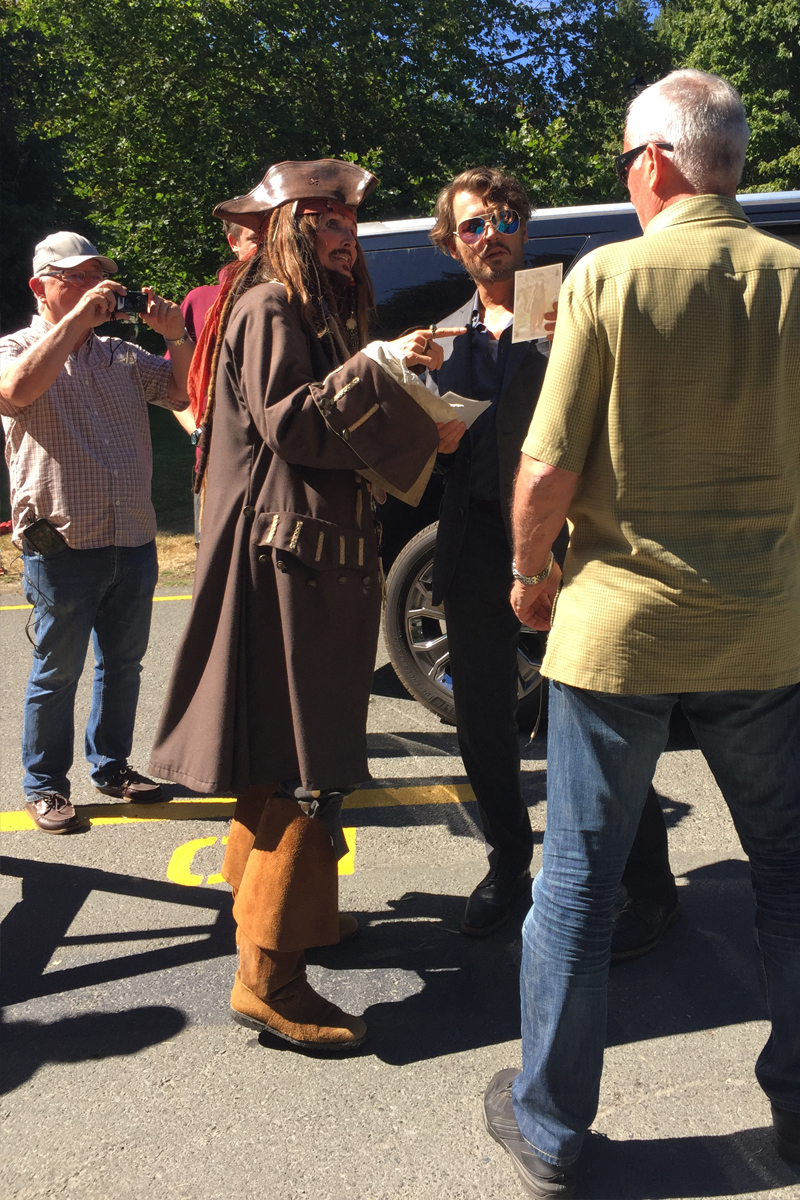 impressed with and then a photo as Tonto. Why Tonto? Maybe because our son said it was one of his favourite characters I did and took it with me for good measure. I went head first into deep water, by telling JD it was a challenging costume for a female, for this character was shirtless. Then virtually drowning, I grabbed my chest and said, "for these two get in the way when I emulate you, you know". I think instead of just breaking my own ice, I became part of global warming…. 'what the hell was I thinking?' Johnny Depp did chuckle and agreed how they would definitely get in the way, which lead into a discussion about cross dressing and his role in "Ed Wood". "Wearing lingerie was trying and I can only imagine what you women must go through daily", said Depp. We went back and forth regarding a few things about this matter, and I must have been getting myself into hot water, for it sparked not only a smile, but an impromptu hug from Mr. Depp. As the embrace was released, I would have LOVED to have had a deeper and more in depth conversation with him about the topic of cross dressing, but I sensed my time was running out. Johnny Depp started an intriguing discussion about something very fascinating regarding Vogue Magazine, when, out of the corner of my eye, I could see Jerry preparing the SUV for loading.
To view more photos, go to GALLERY ~ "Meeting Johnny Depp".
(Part IV to be continued…)
What a brilliant, generous and caring man. See video below of Johnny Depp's successful visit to BC Children's Hospital. Such a true inspiration. "I tip my tricorn hat off to you kind sir".
VIDEO: Arrr me matey! Johnny Depp visits BC Children's Hospital