Choice of Style
If there is one man in few who can get away with wearing nail polish, that one would have to be Johnny Depp. Eccentric actions coincide with an eccentric person, (to pull it off).
On a personal note,… having viewed some recent photos, I have noticed that on occasion Johnny Depp has gone back to wearing his double earrings in one ear along with distinctly noticeable eyeliner. This has definitely helped me achieve the more 'flamboyant' side of Johnny Depp with ease. It has not been an uncommon practice for me to forget to remove my double set of earrings prior to a function or not properly remove my own eyeliner,… now it has become a matter of choice as part of the attire.  On the make-up front, because I am somewhat fairer, I have had to draw in a heavier brow, and now resorted to using eyeliner to induce darker rims around my eyes to camouflage the lack of thick lashes. Many have questioned my choice to wear eyeliner in the early stages of my transformation,… but since it has been advertised that Johnny Depp himself wears eyeliner on occasion, it has now become a part of my make-up process. My choices of attire and make-up are now unquestioned. 
The most profound statement of all however,….
Due to the fact I keep my nails shor, I do notice other women's beautifully manicured french nails. I pondered over the fact I last wore any sort of nail enamel.  The proper technique of painting nails and then having to remove the polish due to an upcoming event or gig appearance as Johnny or Jack, has kept me from the process.  A couple of days later, astonished, Depp appeared on Letterman (re: the Rum Diaries), wearing blue nail polish.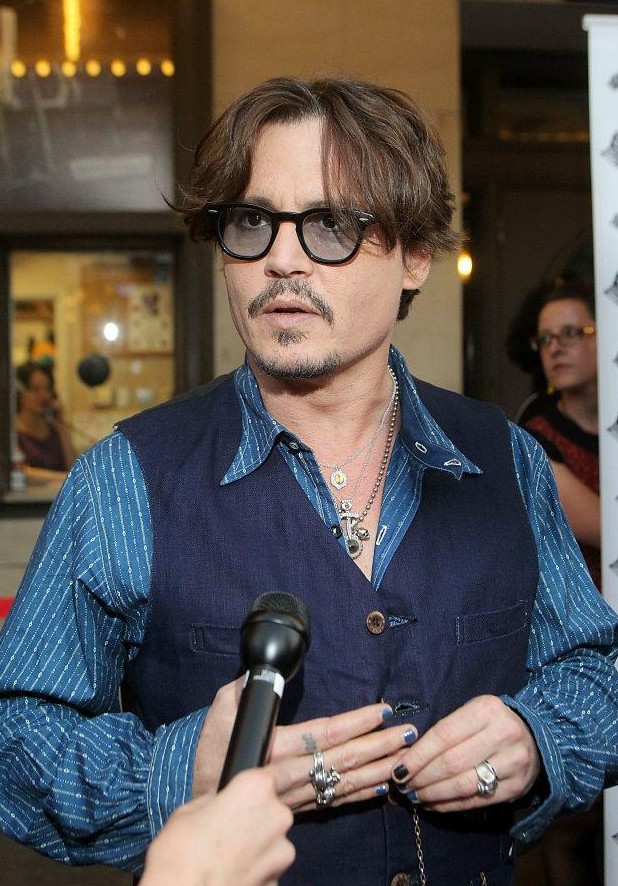 I am a true admirer of Mr. Depp who doesn't feel pressured by society's 'conditioning' as to what is perceived as 'proper' behaviour.  He continues to experiment and take chances in life by opening different doors and exploring the avenues presented to him.  He is not a trend setter, just someone who likes to be himself and proving to others that one can and should be comfortable being the person they are, and not have to worry about being judged for it.